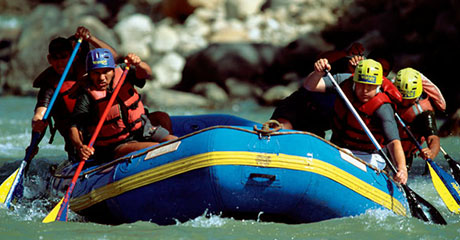 Canoeing on the Vilcanota River
We go with our tourist bus to your respective hotel at 08:30 am, we will go to the Vilcanota river in the part of CUSIPATA where our camp is located, the trip takes 2 hours. Upon arrival we will leave our luggage and receive a brief explanation to the guide's charge about the commands to be carried out on the boat. We will walk 10 minutes to arrive to the Chuquicahuana sector, to be able to travel the rapids that in this section are class III. you guys They will enjoy 2 hours of adventure traveling the river. At the end of the excursion we have buffet lunch on the banks of the river that consists of a variation of food for the client's taste as well as soft drinks, mates etc. After lunch you will be able to enjoy the sauna and later we will return to Cusco arriving at 4.30 pm.
NOTA: The rapids are classified as follows:
Difficulty I-II:
Easy without risk, something exciting
Difficulty III-IV:
Good and exciting, with some risk
Difficulty V:
Very exciting and risky, an additional safety boat is needed, it can be A Kayak or a boat, is the maximum level that can be done with Tourists.
Difficulty VI:
Extreme risk, you cannot do rafting.

The service includes:
Professional Rafting Guide.
Complete boating equipment: neoprene suit, life jacket, windbreaker, safety helmet, paddles.
Cold lunch (main course, dessert, fruits hot drinks and cold, bread, etc.), we also have an option for vegetarians. This must be informed one day before departure.
Transport private round trip.
Kayak of security.
The service does not include:
Digital photo service and video (optional, ask at our office or via email)
Tip
Additional features
What to bring to the Tour:
Swimsuit
Shorts, towel, sandals or slippers to enter the river.
Hat and sunscreen.
Water bottle.
Photographic camera.
PRECIOS POR PERSONA - 2022:
Dólares
Soles
85
Por persona (servicio compartido)
170
Por persona (Privado) x grupo de 02
140
Por persona (Privado) x grupo de 04
110
Por persona (Privado) x grupo de 06 a más…
Send your payment by:
1.- Payments with credit card by PayPal
Paypal is one of the most popular internet payment platforms of our time
IMPORTANT: In order to send your payment you need to create an account in Paypal
The steps to send us your payment are easy to follow PAYMENT BY PAYPAL
2.- Banking Transference
It can be done at any bank, make the deposit with the following information:
Bank: Banco de Credito del Peru
Account number in dollars: 285-1730678-1-91
Name: Machupicchu E.I.R.L.
SWIFT: BCPLPEPL
The deposit must be sent under the name of Machupicchu E.I.R.L. (you can print this page).
Afterwards send us a mail with the following information :
Date and hour of the Payment
Operation and transaction numbers.
Displayed name (it should be Machupicchu E.I.R.L. )
Sent total amount
Name of the bank where the transaction was done.
We will send a mail confirming the transaction and we will re-confirm your reserve as well.
If you need more information:
Central Office
+51-84-223010
MOVIL: +51-984654111
MOVIL: +51-984630919
MOVIL: +51-977777777
Web page: www.machupicchutravelagency.com
Travel and Tourism Agency "MachuPicchu Travel"
RUC: 20527957371
Cusco - Peru - Latinoamerica
You do not need to send money just call us:
Central Office
+51-84-223010
MOVIL: +51-984654111
MOVIL: +51-984630919
MOVIL: +51-984674477
If you need more information:
Web page: www.machupicchutravelagency.com
Travel and Tourism Agency "Machu Picchu Travel"
RUC: 20527957371
Cusco - Peru - Latinoamerica