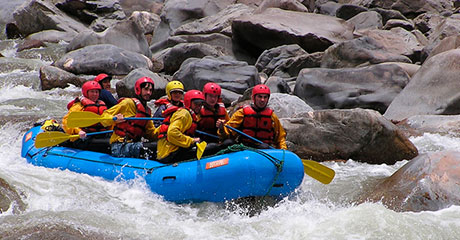 Canoeing on the Vilcanota River
This exciting expedition is ranked among the best in the world according to the Wolrd Class Rivers. We started our trip from Cusco 3300 mts. we will drive for 4 hours through the Andes to the Apurimac River, (In the native Quechua language it means "President of the gods"). This river is a tributary of the Amazon the river most throughout the world. It sails approximately 55 kilometers and crosses rapids of class III, IV and up to V. The maximum in boating it is grade VI, and this is reserved only for expert and well-trained adventurers. The tour in Apurimac is quite demanding and requires absolute concentration. A safety kayak as a companion for Each raft provides the necessary peace of mind in the event of a mishap. Those who know the Apurimac always say that it is he who is in charge, for this reason the river deserves all possible respect. No precaution is too much for those who dare to venture into its waters. Among the fauna, in this remote and isolated canyon we can find river otters, cats wild, foxes, torrent ducks, cormorants, etc.
First day:
We meet at 09:00 hrs and start our expedition, we leave from Cusco and after 4 hours of bus travel through the Andes,
We will arrive at the Huallpachaca Bridge located at an altitude of 2900 meters. After preparing all the equipment, you will be given a safety talk and exercises in rafting techniques. We will put emphasis on the training of all participants, in how to return to the raft, turning the raft, fast swimming etc. We will be touring the river for 2 or 3 hours, through class II and III rapids. Later We will camp in a narrow gorge with impressive walls. Here the guides will prepare dinner, your responsibility is to help collect firewood for cooking, and wash your own plate. ( L + D)

Second day:
After a healthy breakfast we should start the rafting at approximately 09:00 hrs. Today we will be in the water for 6 hours, doing most of the class III and IV rapids, stop for lunch and arrival at the camp around 4:00 p.m., today we will have tea and dinner time and sleep on a sandy beach under the night sky of the southern hemisphere. (B + L + D)
Tercer Día:
After a good breakfast, we will enjoy 4 hours of rafting, we will run class V rapids, with names like "toothache", "first", "last laugh", the whole route will be a unforgettable experience full of adventure and surrounded by exuberant nature ... Our return to Cusco will be after lunch Arriving around 6:00 p.m. (B + L)

Note: Rapids are cataloged as follows:
Difficulty I-II:
Easy without risk, something exciting
Difficulty III-IV:
Good and exciting, with some risk
Difficulty V:
Very exciting and risky, it takes a additional safety boat, it can be a kayak or a boat, it is the maximum level that can be to do with Tourists.
Difficulty VI:
Extreme risk, you can not do rafting.
PRECIOS POR PERSONA - 2022
Dólares
Soles
390
Por persona (servicio compartido)
The service includes:
Transportation to and from the river.
Complete boating equipment: wetsuit, life jacket, windbreaker, safety helmet, paddles.
Food during the tour.
Private transportation to and from return.
Tents.
Sauna y Jacuzzi.
Kayak of security.
The service does not include:
Digital photo and video service (optional, ask in our office or via mail)
Tip
Additional features
What to bring to Tour:
Swimsuit
Shorts, towel, sandals or slippers to enter the river.
Hat and sunscreen.
Water bottle.
Sleeping bag and mat (MATRA)
A small backpack for your personal effects: documents, some money, sunscreen solar, a hat for the sun. )
Photographic camera.
Send your payment by:
1.- Payments with credit card by PayPal
Paypal is one of the most popular internet payment platforms of our time
IMPORTANT: In order to send your payment you need to create an account in Paypal
The steps to send us your payment are easy to follow PAYMENT BY PAYPAL
2.- Banking Transference
It can be done at any bank, make the deposit with the following information:
Bank: Banco de Credito del Peru
Account number in dollars: 285-1730678-1-91
Name: Machupicchu E.I.R.L.
SWIFT: BCPLPEPL
The deposit must be sent under the name of Machupicchu E.I.R.L. (you can print this page).
Afterwards send us a mail with the following information :
Date and hour of the Payment
Operation and transaction numbers.
Displayed name (it should be Machupicchu E.I.R.L. )
Sent total amount
Name of the bank where the transaction was done.
We will send a mail confirming the transaction and we will re-confirm your reserve as well.
If you need more information:
Central Office
+51-84-223010
MOVIL: +51-984654111
MOVIL: +51-984630919
MOVIL: +51-977777777
Web page: www.machupicchutravelagency.com
Travel and Tourism Agency "MachuPicchu Travel"
RUC: 20527957371
Cusco - Peru - Latinoamerica
You do not need to send money just call us:
Central Office
+51-84-223010
MOVIL: +51-984654111
MOVIL: +51-984630919
MOVIL: +51-984674477
If you need more information:
Web page: www.machupicchutravelagency.com
Travel and Tourism Agency "Machu Picchu Travel"
RUC: 20527957371
Cusco - Peru - Latinoamerica