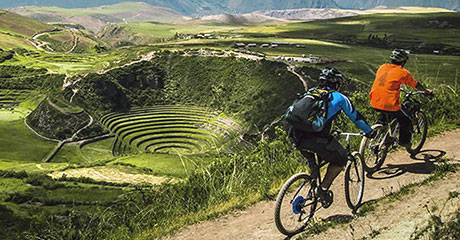 Maras Moray Bike Tour
Description:
Pick up between 9 am to go to Chancadora (Chinchero) in the selected transport. From this place we descend, passing through the Huaypo lagoon to Moray, an archaeological center where you will have a guided tour. After the box lunch we headed towards Maras on a descent quickly we will reach the Salineras we will stop to appreciate the Inca salt mines and we finally reached the Pichingoto bridge. The trip has a distance of 30 km and can be perform in 5 hours approx. With an impressive view of snow-capped mountains and valleys; in the afternoon at finalize return to the City.

Our service includes:
Mountain bike with suspension
Safety helmet and gloves
Expert guide
Box lunch
Round trip transportation to Cusco.
OPCIONAL: If you want to enter the archaeological complex, it is necessary to acquire the BTP whose cost is S/. 70
What to bring:
Hat and sunglasses
Money for your income
Shorts and insect repellent
Sunscreen
Personal water
Small backpack.
PRECIOS POR PERSONA - 2022:
Dólares
Soles
80
Por persona (servicio compartido)
130
Por persona (Privado) x grupo de 02
105
Por persona (Privado) x grupo de 04
95
Por persona (Privado) x grupo de 06 a más…
Send your payment by:
1.- Payments with credit card by PayPal
Paypal is one of the most popular internet payment platforms of our time
IMPORTANT: In order to send your payment you need to create an account in Paypal
The steps to send us your payment are easy to follow PAYMENT BY PAYPAL
2.- Banking Transference
It can be done at any bank, make the deposit with the following information:
Bank: Banco de Credito del Peru
Account number in dollars: 285-1730678-1-91
Name: Machupicchu E.I.R.L.
SWIFT: BCPLPEPL
The deposit must be sent under the name of Machupicchu E.I.R.L. (you can print this page).
Afterwards send us a mail with the following information :
Date and hour of the Payment
Operation and transaction numbers.
Displayed name (it should be Machupicchu E.I.R.L. )
Sent total amount
Name of the bank where the transaction was done.
We will send a mail confirming the transaction and we will re-confirm your reserve as well.
If you need more information:
Central Office
+51-84-223010
MOVIL: +51-984654111
MOVIL: +51-984630919
MOVIL: +51-977777777
Web page: www.machupicchutravelagency.com
Travel and Tourism Agency "MachuPicchu Travel"
RUC: 20527957371
Cusco - Peru - Latinoamerica
You do not need to send money just call us:
Central Office
+51-84-223010
MOVIL: +51-984654111
MOVIL: +51-984630919
MOVIL: +51-984674477
If you need more information:
Web page: www.machupicchutravelagency.com
Travel and Tourism Agency "Machu Picchu Travel"
RUC: 20527957371
Cusco - Peru - Latinoamerica