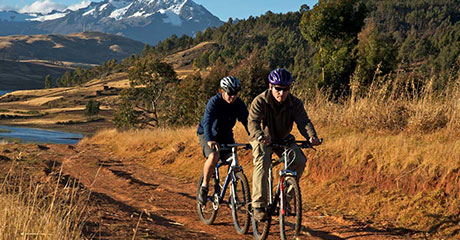 Bicycle Tour through the Sacred Valley of the Incas
Itinerary:
Departure from Cusco at 08.00 hrs. bound for the Sacred Valley of the Incas, this circuit lasts 9 hours. approximately and starts with an easy descent by dirt road, you can visit some markets and annexes on the route of the valley until reaching Pisaq here you visit its market, and continue along the Calca route on the banks of the river until reaching Urubamba where you have lunch, after a break you can continue until you reach Ollantaytambo where the archaeological zone is visited and the tour ends to return in a private transport to Cusco arriving at hrs. 18.30 hrs

Our service includes:
Professional guide
Bicycle equipment (helmet, glove, bicycles)
Lunch (private only)
Kit repair
Box lunch (shared service)
Private transportation (van h1 only private)
What to bring:
Tourist ticket (entrance to the attractions to be visited)
Light clothing
Windproof clothing
Raincoat for rain
Extra money
PRECIOS POR PERSONA - 2022:
Dólares
Soles
110
Por persona (servicio compartido)
195
Por persona (Privado) x grupo de 02
130
Por persona (Privado) x grupo de 04
115
Por persona (Privado) x grupo de 06 a mas…
Send your payment by:
1.- Payments with credit card by PayPal
Paypal is one of the most popular internet payment platforms of our time
IMPORTANT: In order to send your payment you need to create an account in Paypal
The steps to send us your payment are easy to follow PAYMENT BY PAYPAL
2.- Banking Transference
It can be done at any bank, make the deposit with the following information:
Bank: Banco de Credito del Peru
Account number in dollars: 285-1730678-1-91
Name: Machupicchu E.I.R.L.
SWIFT: BCPLPEPL
The deposit must be sent under the name of Machupicchu E.I.R.L. (you can print this page).
Afterwards send us a mail with the following information :
Date and hour of the Payment
Operation and transaction numbers.
Displayed name (it should be Machupicchu E.I.R.L. )
Sent total amount
Name of the bank where the transaction was done.
We will send a mail confirming the transaction and we will re-confirm your reserve as well.
If you need more information:
Central Office
+51-84-223010
MOVIL: +51-984654111
MOVIL: +51-984630919
MOVIL: +51-977777777
Web page: www.machupicchutravelagency.com
Travel and Tourism Agency "MachuPicchu Travel"
RUC: 20527957371
Cusco - Peru - Latinoamerica
You do not need to send money just call us:
Central Office
+51-84-223010
MOVIL: +51-984654111
MOVIL: +51-984630919
MOVIL: +51-984674477
If you need more information:
Web page: www.machupicchutravelagency.com
Travel and Tourism Agency "Machu Picchu Travel"
RUC: 20527957371
Cusco - Peru - Latinoamerica