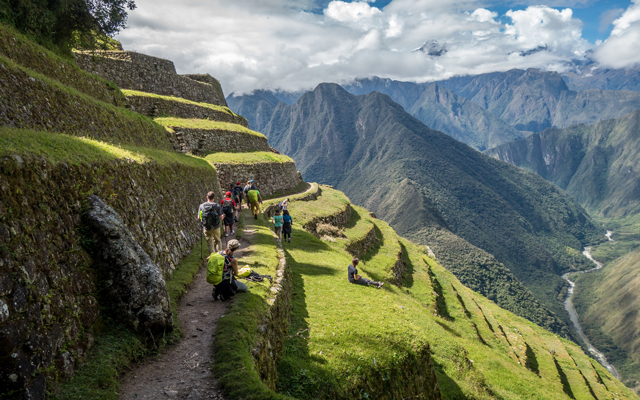 Located between two very important archaeological sites inside the Inca Trail towards Machu Picchu, we talk about Wiñaywayna and Intipunku. Intipata is located at 2840 meters above sea level inside the historic sanctuary of Machu Picchu. It is a set of platforms built on the side of a mountain in the middle of the jungle eyebrow thus adopting its shape, and keeping a beautiful harmony with its surroundings.
Intipata, quechua term translated to Castilian would be: "Place of the Sun". When you walk you can not see the place at first sight, but if the travelers are more curious, you can observe these terraces, and the way the sun can be placed on the platforms, making a unique and unforgettable landscape to contemplate .
Characteristics of the Intipata Archaeological Center
As in many Inca Archaeological Centers, Intipata exists the evidence of systems of irrigation channels, they made the best use of water through these channels that are distributed to communicate their different levels.
The terraces are of considerable size, possibly allowing the development of agriculture on a large scale, the construction level stands out even in the most inaccessible places.
Terraces have a variety of fillings, therefore, it can also be said that they were used to avoid erosion of the terrain where ceremonial structures were built.
Intipata is one of the places where the Incas also found ways to improve soil conditions for agriculture.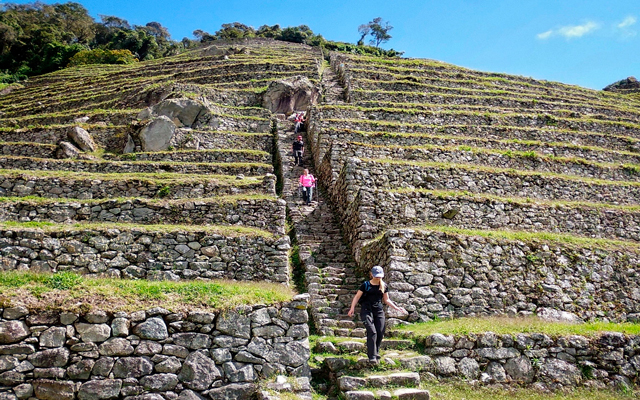 How did we get to Intipata?
First we must know that this place is inside the Historic Sanctuary of MachuPicchu, and is part of the network of the Inca Trail to MachuPicchu. We must also know that you have hired a Tour on the Inca Trail to visit the different Archaeological Centers where the road to Machu Picchu passes. Near the Archaeological center of Wiñaywayna is an electric pole where you can turn left to get to the shortest path, since the other path to the right will lead us to the Wiñaywayna, the walk takes about 20 minutes.

Embark on this wonderful adventure with the best travel agency in Peru Machu Picchu Travel.
We serve 24 hours a day, 365 days a year
Contact Us:
WhatsApp: +51984630919
Phone: + 51-84-264242
Animate to live a new adventure as well as our passengers already did, do not stay with the desire, that does not tell you about it...
Temas Relacionados