Within the Andean peaks in regard to the borders between Bolivia, Chile and Argentina there is a lagoon that has a characteristic coloration of the place (green), which accompanied by its splendid landscapes can come to present a natural spectacle that will amaze all its spectators in more ways than one.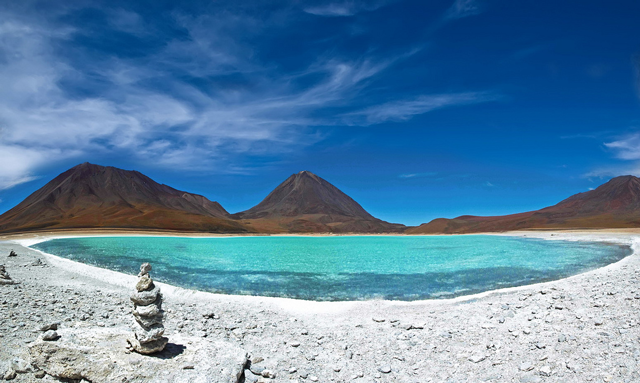 This place located in Potosí, in the Eduardo Abarao National Andean Fauna Reserve, exhibits within its limitations a lake with a coloration that resembles emerald green and that this is due to its strange composition in which the magnesium mineral, carbonate of calcium, lead and arsenic is abundant in the waters.
The lagoon located next to the Licancabur volcano is considered by its visitors as a natural show of the most beautiful, also has a unique ecosystem that is conducive to life especially the large flocks of flamingos that roam the area.
This tourist destination that is protected within the Eduardo Avaroa Andean Fauna Reserve hosts at least 40,000 visitors annually, being considered the most visited natural protected area in the region.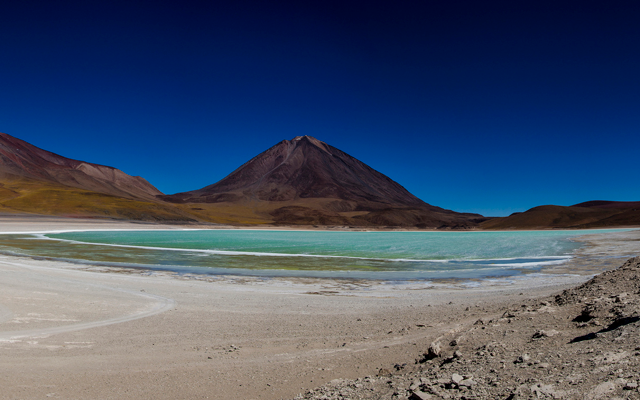 As for the Licancabur volcano, which is located in the background of this beautiful lake, it can be noted that it is located between two borders, with the crater part on the Chilean side.
This lake of unforgettable nature leaves a nice memory of a nice colorful area full of life.
The department of Potosí, where all this natural magic lies, is located in the south east of Bolivia, also known as the city of precious metals and one of the 9 departments that make up this beautiful country.
Other destinations
Within the Andean Fauna Reserve Eduardo Avaro you can also visit the great Dalí desert or the Gaysers of the Sun of Tomorrow that are at a height of 4850 masl. where the strong smell of sulfur coming from the craters is characteristic. As additional information it is worth mentioning that you have to pay a small fee to enter this incredible reserve.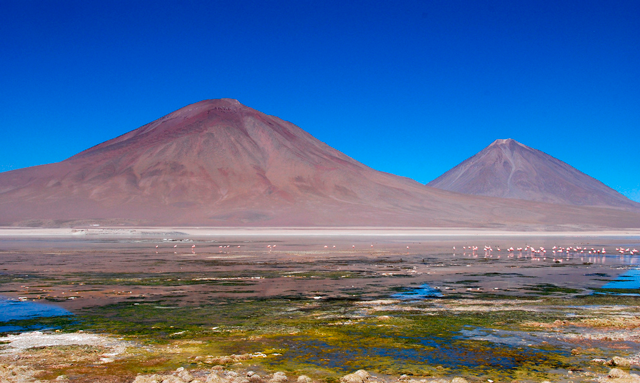 Embark on this wonderful adventure with the best travel agency in Peru Machu Picchu Travel.
Tour in Peru - Bolivia 25 days visit: Lima, Nazca, Machu Picchu, Trujillo, Chiclayo, Arequipa, Puno, La Paz, Cusco
We serve 24 hours a day, 365 days a year
Contact Us:
WhatsApp: +51984630919
Phone: + 51-84-264242
Animate to live a new adventure as well as our passengers already did, do not stay with the desire, that does not tell you about it...
Temas Relacionados