Also known as guinea pig, guinea pig, guinea pig or guinea pig, this rodent lives in South American countries such as Ecuador, Colombia, Bolivia and the better known Peru, sometimes adults can weigh up to 1 Kg. And they have records that can live For up to eight years, in some sectors of the Peruvian region, such as Huánuco, Ancash, Pasco and Junín, it is known as jaka (a word from the primitive Quechua "haka").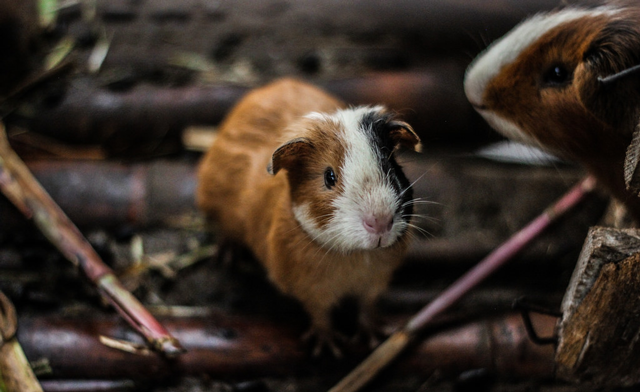 According to registered records, its human domestication was performed more than 2,500 years ago in the Peruvian Central Andes, in the department of Junín, curiously the same place where the domestication of alpacas began, from that moment, the Peruvian Andean man began raising this rodent not only for the consumption of its meat, but also to make clothes with its skin (an example is given in the Ecuadorian sierra), currently Peru has the highest percentage of the population and consumption of guinea pig an annual value of almost 65 million Cuyes; It is worth mentioning that their aging is recorded in a ceramic of the Mochica culture, guinea pigs were also found in some mummy burials, both pre-Inca and Inca.
Although, for many Peruvians, the guinea pig symbolizes one of the most appetizing and healthy dishes in gastronomy, for other Peruvians, as well as for visitors who come to this country to know the cultural centers and archaeological wonders such as Machupicchu, its tasting it symbolizes a true challenge, for that reason the Peruvian gastronomy develops an important role so that this dish is more and more loved, especially in the food of the mountains and the Andean neo.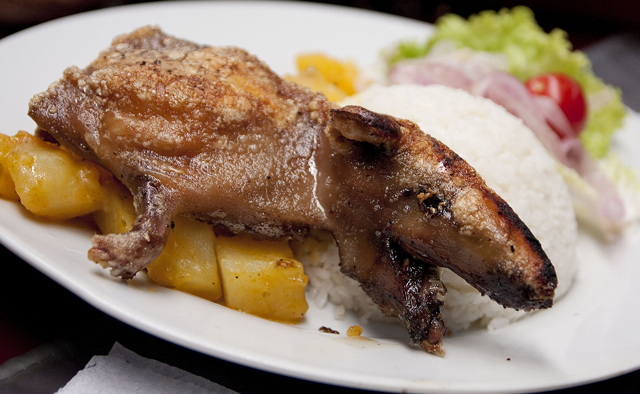 The breeding of this animal is not very difficult, it only needs a small space and its food consists basically of alfalfa and grass, and they can drink even chicha de jora, its reproduction is given in considerable quantities, in a single litter they can have up to 7 pups and a minimum of 1, however, are very susceptible to temperature and should not be caught constantly for being very delicate, their color of the purebred is reddish and their fur is short, while the combinations have white tufts , and despite their serenity, they are always alert so if you have it in very open spaces you will have problems in capturing it, even so, they are animals as we mentioned of easy breeding, which is why many are raised as a family while their upbringing commercial level is more reduced.
The consumption of this animal, is becoming increasingly accepted, this due to not only its exquisite flavor but also its high protein value and its low level of fat, among its highest values is Omega 3 and provides a very high value of iron; Among the main meals prepared with the guinea pig are the roasted Cuy, Cuy roasted on coals, Cuy in Pachamanca proper of Huancayo in Junín, Pepián de cuy del Cuzco, Cuy in peanut sauce, cuy chactado or the own stone of Cusco and Arequipa , the culinary novelty "ti pa cuy" in the Chinese style that is spreading with the novel Novo Andina food etc. However, there is not the thing, because, at present, new proposals for the preparation of guinea pigs have been presented both in picanterías, restaurants and country estates.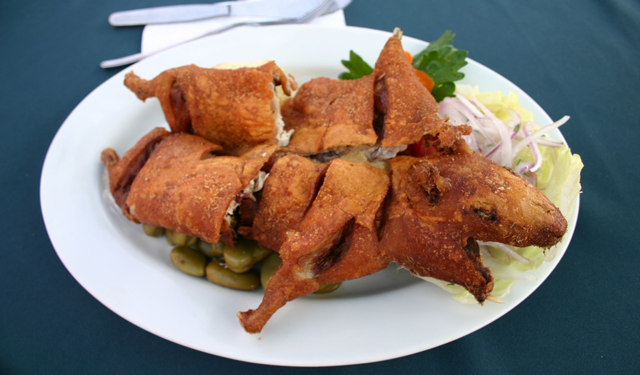 Thanks to all the aforementioned, the congress of the Republic of Peru, came to declare since 2013, the second Friday of October as National Day of the Cuy, in addition to declaring domestic guinea pig as a native species of Peru and the nation's Natural Heritage.
In Peruvian culture, guinea pig plays an important role in many cultural events, and here we bring you a list of some of them.
Juan Acevedo's Cuy; a comic strip where a guinea pig travels in time to learn about the history of Peru and its characters, behind this guinea pig shows a character the playfulness and tenderness of Peruvian society.
The tombola guinea pig; every time it becomes more popular, it is a game that consists of placing a guinea pig at the center of a circle of boxes that each participant chose, the luck of deciding when the guinea pig enters one of the boxes making the winner of its carrier.
An international actor; not even Holywood could be oblivious to the sympathy of the guinea pigs, which is why there are animations with images of these rodents like G-Force and the secret life of pets.
Offering for the passage to another life; Their skeletons were found in important tombs of the nobility, also as we said before there are also ceramics with their images, reason to think that it was an important part of ancestral cultures.
Cuy for healing; used as a kind of medical scanner, the guinea pig is used by healers to pass through the body of the person, to die after having absorbed all the evils of it and seeing their organs is deduced what was the ailment to the patient, from there comes the phrase "you have to pass the guinea pig".
Stools that give energy; In some breeding sites, techniques were developed with which natural gas known as biol or biogas was obtained from the manure of these animals, thus generating sustainable electrical energy for houses near the breeding sites.
One last Andean dinner; the art school of Cusco, incorporating Andean elements in some of his works, in order to combine with the elements imposed by the colonizers, an example is the last dinner in the convent of San Francisco in Lima, where you can see a guinea pig oven.
The guinea pig Jimmy vs the octopus Paul; It came to light in the 2010 World Cup as a competition of the octopus pool that had hit several forecasts, Jimmy had to decide between two houses that represented the opposing teams.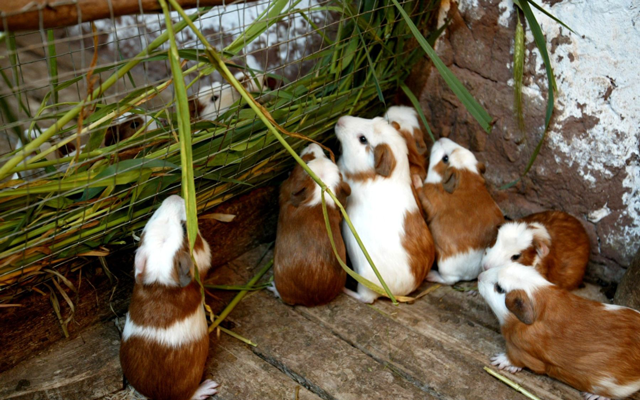 Go ahead and travel to Peru and get to know not only all the wonders that it can offer, but also its exquisite cuisine, that you wait, come and know Perú. Contact us by going to our website: www.machupicchutravelagency.com, a sales agent will be waiting for you to start the live chat , we attend 24 hours a day, 360 days a year, book now!
We serve 24 hours a day, 365 days a year
Contact Us:
WhatsApp: +51984630919
Phone: + 51-84-264242
Animate to live a new adventure as well as our passengers already did, do not stay with the desire, that does not tell you about it...
Temas Relacionados