Located 30 km. About the city of Nazca, in Ica Peru, Chauchilla cemetery is one of the necropolis built in the pre-Inca period by some of the cultures of this period between silos II a.c. to IX AD, some historians indicate that it was the Huari, while others suspect the Nazca culture, both cultures developed in this sector, and because one of them precedes the other, it is not known with certainty exactly what culture it could belong.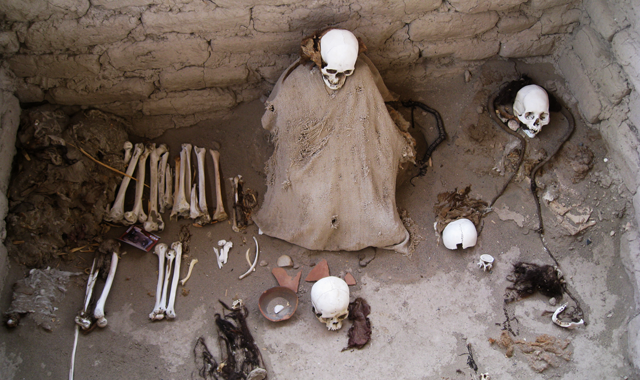 However, the ancient Peruvian settlers, like most cultures around the world, believed in a second life after death, or in reincarnation in another being, that is why it was always a question of deceased people (about all those of great lineage or royalty) have a special preparation before being buried or deposited in strategic places where they can be properly preserved, most of these funeral bales were accompanied by offerings that would serve the deceased for their passage to the next level spiritual.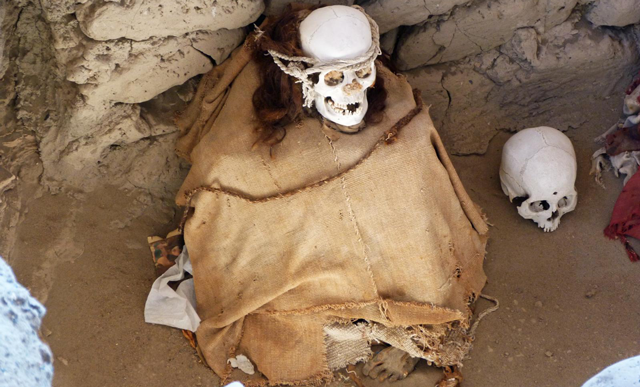 In this cemetery you can see mummies with remains of ancient civilizations such as textiles, ceramic fragments, etc. These mummies are to date in an almost perfect state of preservation despite the age of these, in some of these remains you can see traces of hair can also see some skin remains, this conservation may be due to the arid climate that characterizes the Nazca desert, where the cemetery of Chauchilla is located, this cemetery is also the ONLY archaeological site where you can see the mummies in their original tombs as they were found, apart, silent and solitary so that travelers who can get to them can give the last goodbye to the people who occupy the cemetery.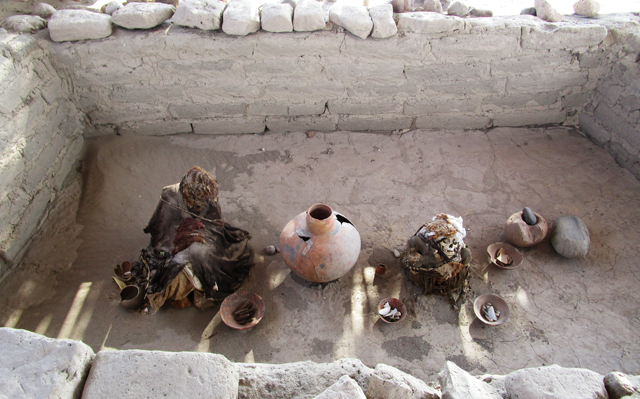 Finally it is worth mentioning that this archaeological site is outdoors, which is why the cemetery suffers a continuous attack by looters, which is why an important number of archaeological treasures disappeared, it is since 1997 that the area is protected and became an official archaeological site, nowadays the cemetery of Chauchilla is one of the most significant tourist sites where in spite of the implacable sun and the sand that you have to cross to arrive as African desert, it attracts tourists from all parts which remain admired for everything they find that symbolizes one of the most interesting stops you can make if you arrive in Peru, we invite you to know this little corner located in the Inca desert, we assure you that Chauchilla Cemetery will enchant you !!!!!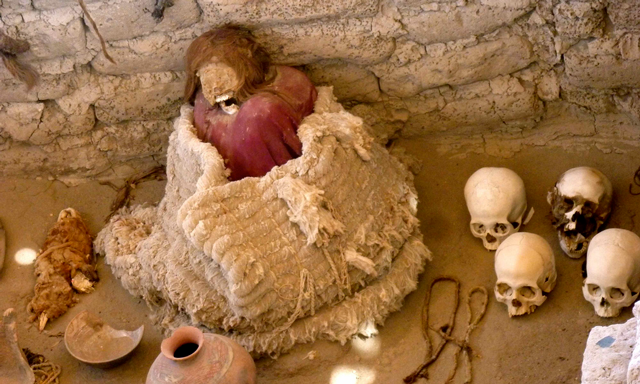 Enjoy the best tours throughout Peru, and discover the magical adventure of traveling and acquire unforgettable experiences with Machu Picchu Travel, we organize and advise you, do not hesitate and book with us.
Tour 20 days tour in Peru: Lima, Nazca, Machu Picchu, cruise the Amazon, Huacachina, Arequipa, Colca Canyon
Tour in Perú 25 days: Lima, Nazca, Machupicchu, Trujillo, Chiclayo, Señor de Sipan, Chavín De Huántar, Arequipa, Cusco
We serve 24 hours a day, 365 days a year
Contact Us:
WhatsApp: +51984630919
Phone: + 51-84-264242
Animate to live a new adventure as well as our passengers already did, do not stay with the desire, that does not tell you about it...
Temas Relacionados