The Church of San Pedro Apostle of Andahuaylillas also known as the Sistine Chapel of America, this due to the large number of works of art that possess and decorate the interior of its structures.
The town of Andahuaylillas is a small and cozy place that is located in the province of Quispicanchi about 40 kilometers from the city of Cusco, the beautiful architecture of the church is located in front of the charming main square, stand out the beautiful trees from Pisonay who welcome all visitors. Of simple architecture, it was built on a platform and accessed by steps, like many Andean temples has an open chapel in the form of a balcony, which is guarded by a solid bell tower of solid square.
Curious facts of the Church of Andahuaylillas
• According to some studies indicate that the church could have been built at the end of the 16th century, since Luis de Riaño signs in one of the murals indicating the date of 1626.
• When you enter the church, every visitor does not stop being amazed, because the decoration in gold leaf and the murals, does not leave almost free space.
• It has wide mud walls, with two side chapels.
• The interior shows the Baroque style that seeks to impact the viewer with the overwhelming presence of the ornamental.
• The roof is almost completely covered by a Mudejar style decoration, which uses floral and fruit motifs covered with gold leaf.
• The baptistery stands out from the temple, it has an inscription in Latin, Spanish, Quechua, Aymara and Puquina, testimony that this temple was one of the two translation centers of the indigenous languages ​​of the Archdiocese of Cusco.
• The murals are the highlight of the place, most of these works were made by the artist Luis de Riaño.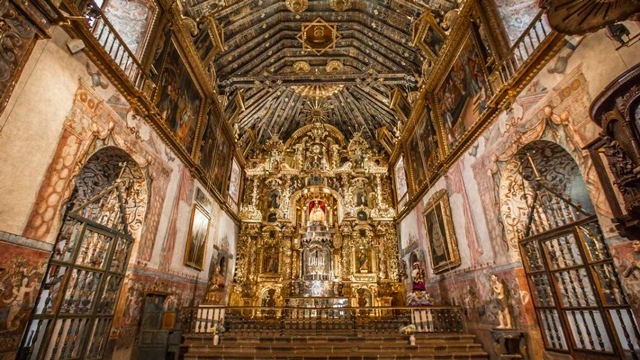 If you want to get to know this beautiful church, you can take a tour that includes a visit to this place, you can also get to know Tipón and the citadel of Pikillacta that are on the route of the Tour called Valle Sur.
Sistine Chapel of America? Book now !, enjoy the South Valley with the travel agency Machupicchu Travel.
We serve 24 hours a day, 365 days a year
Contact Us:
WhatsApp: +51984630919
Phone: + 51-84-223010
Temas Relacionados