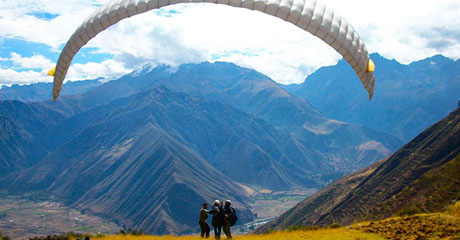 Paragliding Adventure
Descripción:
Pick up between 09:00 hrs to go between the areas of Chincheros and Cruzpata in private transport. It is in this place where we will make our Paragliding adventure. Depending on the climatic state we can start once arrived at the place, otherwise we have to wait as long as necessary to be able to carry out our flight practices. It is necessary to have extra time since this sport depends on the climatic factor. You can make a maximum flight of 35 minutes and a minimum of 20 minutes for each person.
Note: Many times the weather factor is not good, in this case we return to the city and if the client wishes to postpone his flight, it can be negotiated, otherwise a refund of the money will be made remaining for operational expenses that each client assumes in an amount of $ 20 dollars per person.

Our service includes:
Informative talk one night before the flight
Paragliding safety equipment
Expert guide
Snacks
Private transportation to and from Cusco.
What to bring:
Hat and sunglasses
Sunscreen
Small backpack.
Recreational games
PRECIOS POR PERSONA - 2022:
| Dólares | Soles | |
| --- | --- | --- |
| 130 | | Por persona (servicio compartido) |
| 260 | | Por persona (Privado) x grupo de 02 |
| 195 | | Por persona (Privado) x grupo de 04 |
| 155 | | Por persona (Privado) x grupo de 06 a mas… |
Send your payment by:
1.- Payments with credit card by PayPal
Paypal is one of the most popular internet payment platforms of our time
IMPORTANT: In order to send your payment you need to create an account in Paypal
The steps to send us your payment are easy to follow PAYMENT BY PAYPAL
2.- Banking Transference
It can be done at any bank, make the deposit with the following information:
Bank: Banco de Credito del Peru
Account number in dollars: 285-1730678-1-91
Name: Machupicchu E.I.R.L.
SWIFT: BCPLPEPL
The deposit must be sent under the name of Machupicchu E.I.R.L. (you can print this page).
Afterwards send us a mail with the following information :
Date and hour of the Payment
Operation and transaction numbers.
Displayed name (it should be Machupicchu E.I.R.L. )
Sent total amount
Name of the bank where the transaction was done.
We will send a mail confirming the transaction and we will re-confirm your reserve as well.
If you need more information:
Central Office
+51-84-223010
MOVIL: +51-984654111
MOVIL: +51-984630919
MOVIL: +51-977777777
Web page: www.machupicchutravelagency.com
Travel and Tourism Agency "MachuPicchu Travel"
RUC: 20527957371
Cusco - Peru - Latinoamerica
You do not need to send money just call us:
Central Office
+51-84-223010
MOVIL: +51-984654111
MOVIL: +51-984630919
MOVIL: +51-984674477
If you need more information:
Web page: www.machupicchutravelagency.com
Travel and Tourism Agency "Machu Picchu Travel"
RUC: 20527957371
Cusco - Peru - Latinoamerica