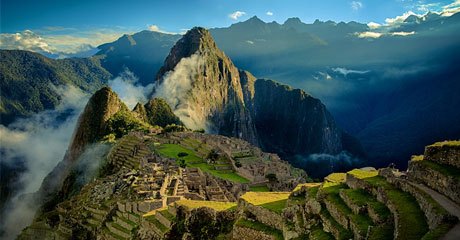 La ciudadela perdida de los Incas Machu Picchu
First day:
Welcome and transfer from Cusco airport to the selected hotel.
Cusco City Tour: Cathedral, Corikancha, Sacsayhuaman, Tambomachay (in the afternoon from 13:00 hrs-18:30 hrs).
Overnight in selected hotel.
Day two:
Breakfast at the hotel.
Tour to the Sacred Valley of Incas. (Visit Pisac and Ollantaytambo, 08:00 hrs - 16:00 hrs).
Travel by train InkaRail from Ollantaytambo to Aguas Calientes (from 16.36 hrs to 18.09 hrs).
Overnight in Aguas Calientes hotel (Machupicchu).
Third day:
Breakfast at the hotel.
Get up by bus to Machupicchu.
Guided tour in Machu Picchu from 08:00 Hrs. to 10:00 Hrs.
Optional: Hike to Huaynapicchu or Mountain Sector (No guide).
Bus descent to Aguas Calientes.
Lunch in Aguas Calientes.
In the afternoon return by train from Aguas Calientes to Ollantaytambo.
Transfer to your hotel in Cusco.
Hotel night in Cusco.
Fourth day:
Tour to the Lagoon of Humantay (04:40 hrs - 19:00 hrs).
Overnight in selected hotel in Cusco.
Fifth day:
Breakfast at the hotel.
Transfer from the hotel to Cusco airport.
End of services
PRECIO POR PERSONA EN ACOMODACION DOBLE - 2023:
PRECIO POR PERSONA EN ACOMODACION SIMPLE - 2023:
PRECIO POR PERSONA EN ACOMODACION TRIPLE - 2023:
Los Turistas Peruanos que cuenten con su DNI vigente tienen un descuento de USD 20.00 en el costo del tour en el ingreso a Machupicchu.
Important - In the months of January - April the services of the companies InkaRail and PeruRail depart and arrive at the stations of Ollantaytambo or Pachar (2 hours from the city of Cusco). The prices of our tours include transfers to these stations.
Important
Hotel reservation is subject to space availability.
Prices do not include IGV for Peruvian passengers.
Spaces to Wayna Picchu Mountain are subject to availability (consult).
Peruvian Tourists with their current ID have a discount of USD 20.00 in the cost of the tour at the entrance to Machupicchu.
Included in the package:
All transfers to the hotel, airport, stations and attractions.
Tours to Machupicchu, Sacred Valley of the Incas, Humantay Lagoon and Cusco City and surroundings.
All transports for tours.
Round-trip train tours Ollantaytambo - Machupicchu - Ollantaytambo.
Bus from Ollantaytambo to Cusco.
Bus tickets up and down Aguas Calientes - Machupicchu - Aguas Calientes.
Professional tour guide in English or Spanish.
Income to all attractions to visit Machupicchu, Sacred Valley, City and surroundings, Churches and museums.
Transfer in all offices.
3 nights Hotel in Cusco.
1 night Hotel in Aguas Calientes.
4 buffet breakfasts in the hotels, 1 buffet lunch in the Valley.
Not included in the package:
Airfare, from Lima -Cusco - Lima, if you want, we can add them, the fare is approximately USD 240(Base rate) round trip per person, this fare can be increased according to the schedule and availability of spaces.
Description of the 5-day, 4-night Tour in Cusco, Sacred Valley, Machu Picchu and Laguna Humantay
First day: Reception and City tour in Cusco
Upon arrival at the airport, we will be waiting for you with a sign with your name, to transfer you to the selected hotel. When you arrive at the hotel, you can taste the famous coca tea, this plant has properties that will help your body against altitude sickness, then you can rest and acclimatize a little in the hotel or if you want to go for a gentle walk through the main streets of the city. On average at 13:00 hrs., we will pick you up from the hotel to start the tour to the city of Cusco and surroundings. This tour includes the visit to the Plaza de Armas, the Cathedral of Cusco, Church of Santo Domingo, Temple of Coricancha and the nearby ruins of Q'enqo, Puka Pukara, Tambomachay and the fortress of Sacsayhuaman.

Day Two: Sacred Valley of the Incas Tour/h4>
We pick you up between 08:00 hrs. to 08:20 hrs., the tour will start making a stop at the natural viewpoint of Corao, where the guide will give you an introduction on the Sacred Valley. You will continue the tour enjoying a beautiful landscape, the first place of visit will be the Traditional Indian Market of Pisaq, here you can do some souvenir or handicraft shopping, you will ascend to the Archaeological Center of Pisaq where after a short walk you will reach main incas enclosures. Continuing the journey, you will head to the city of Urubamba, where in an exclusive restaurant you can taste the local gastronomy. In the afternoon we will visit the Fortress and Citadel of Ollantaytambo, finally, we will go to the train station of Ollantaytambo, to board the train that departs at 16.35 hrs. to Aguas Calientes, where we will arrive averaging 18.10 hrs. We will stay at selected hotel in Aguas Calientes (Machupicchu).

Day three: Tour to Machupicchu "The Lost City of the Incas"
After getting up very early and having breakfast, we will climb to the inca citadel of Machu Picchu, then we will tour with our guide through the citadel of Machu Picchu, for 2 hours. On the tour, you will visit the most important enclosures of this city as they are the Main Square, the Circular Tower, the Sacred Solar Clock, the Royal Quarters, the Temple of the Three Windows and the cemeteries. Completed on tour of the citadel of Machupicchu.
Optionally: You can make the trek to the summit of Huaynapicchu or Sector Mountain, this will take a few hours between the round trip (This visit is without guide). Then we will go by bus to Aguas Calientes and in the afternoon we will take the train back to Ollantaytambo, where our staff will be waiting for you, to transport by bus to the city of Cusco and take you to your hotel.

Fourth day: Tour to Humantay Lagoon
We will pick you up between 4:45 to 5:30 am and then travel by private transport to the village of Mollepata, located in the lush valley of the Apurímac River. After a well-deserved breakfast to fill us with energy, we will continue our journey to Soraypampa (3900 masl), after a short break, we will start our walk to Humantay lake, located at 4200 masl or 13779 feet, after the ascent of 1 hour and 30 min approximately, we can appreciate such a wonderful place and we will return to our camp to have our lunch with beautiful panoramic views of the snow-capped peaks and later they will be transferred to our city of Cusco, we will leave them in the center of Cusco city.

Fifth day: Farewell and air travel from Cusco to Lima
Having a good breakfast, we will pick you up from the hotel, where you are staying and take you to the airport of the city of Cusco, which is a few minutes from the center of Cusco. We must be at least an hour before, to make the flight confirmation arrangements, after checking on the flying airline and paying the airport tax, we will say goodbye and take the flight from Cusco to Lima.
End of services
Payments:
Send your payment by:
1.- Payments with credit card by PayPal
Paypal is one of the most popular internet payment platforms of our time
IMPORTANT: In order to send your payment you need to create an account in Paypal
The steps to send us your payment are easy to follow PAYMENT BY PAYPAL
2.- Banking Transference
It can be done at any bank, make the deposit with the following information:
Bank: Banco de Credito del Peru
Account number in dollars: 285-1730678-1-91
Name: Machupicchu E.I.R.L.
SWIFT: BCPLPEPL
The deposit must be sent under the name of Machupicchu E.I.R.L. (you can print this page).
Afterwards send us a mail with the following information :
Date and hour of the Payment
Operation and transaction numbers.
Displayed name (it should be Machupicchu E.I.R.L. )
Sent total amount
Name of the bank where the transaction was done.
We will send a mail confirming the transaction and we will re-confirm your reserve as well.
If you need more information:
Central Office
+51-84-223010
MOVIL: +51-984654111
MOVIL: +51-984630919
MOVIL: +51-977777777
Web page: www.machupicchutravelagency.com
Travel and Tourism Agency "MachuPicchu Travel"
RUC: 20527957371
Cusco - Peru - Latinoamerica
How to register with Moneybookers
First: You must enter the main page of Moneybookers Click on the button "register", choose the type of account is to be open in our case would be a personal account and complete the form with your details.
Note:
No need to enter your confidential data (such as account number and card number), only use this information when making a transaction.
Remember to fill it the details of your date of birth, as a security measure, you are asked when making a transaction or want to reset your password.
Carefully select the currency to use as it is not possible to change this choice later.
Remember that fields marked with an asterisk (*) are required.
Second: We will send you an email to the email provided to Moneybookers, entering your inbox should confirm or activate the account created in order to do so click on the button "Check your e-mail".
How to deposit money to my Moneybookers account
To send money you first have to load your Money bookers account for this most common way is by bank transfer to Money bookers for which it will provide the data necessary to complete the transaction.
How to send money with Moneybookers
For the sender
Click on the tab "Send Money" page of Moneybookers and fill out the form with data beneficiary
Enter the amount to send and select the type of currency
Click send and your money is being sent in real time
For the beneficiary
The recipient of your money transfer will be notified by email.
The beneficiary is registered in Skrill (Moneybookers) or log, if already registered.
The beneficiary selected bank account, VISA or check as repayment option.
The beneficiary withdraws his money.
Benefits of Moneybookers to send money?
It is not necessary to show the confidential information of your credit card when making purchases, shipping or any transactions online.
Avoid huge queues and lengthy forms to complete transactions
Moneybookers offers you to send and receive money in real time, without delays.
It works with different currencies (Dollars, Euros, etc)
It is the best and cheapest way to send money overseas