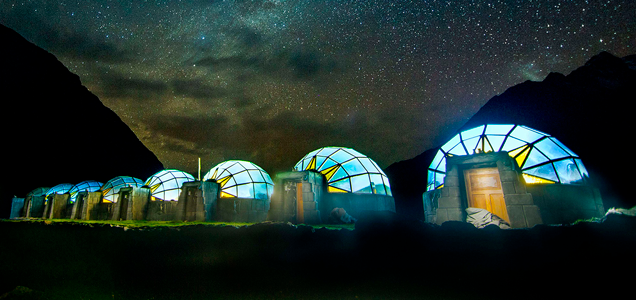 Inca Trail Sky Camp
DAY 1 – CUSCO | MOLLEPATA – CHALLACANCHA – SORAYPAMPA (HUMANTAY LAKE)
Today's Highlights: Walk from Challacancha to Soraypampa with very few tourists. Relish in an afternoon visit to the absolutely whimsical Humantay Lake nestled at the base of Apu Humantay mountain. Take in your first views of the enigmatic Apu Salkantay. Spend the night in our glass-topped Sky Camp, and stargaze from your bed in our exclusive campsite!.
We start the day by picking you up from your hotel at approx 04:00 AM. We will drive for around 4 hours, crossing Anta and Mollepata and ending up at Challancha. Through the windows of the bus you can clearly see the white, snowcapped mountains of Apus Salkantay and Humantay: two colossal gods of the Incas. You will also see spectacular scenery of high peaks and low valleys in a colorful and contrasting panorama filling every direction you turn your eyes! After the first two hours of driving, we will stop quickly in Mollepata to take advantage of the toilet facilities, souvenir shops, and an optional, short breakfast. We will then continue to Challacancha, the starting point for our trek. We will meet our support staff, and they will organize all of the equipment and cargo mules. Around 09:30 AM, we will begin trekking to Soraypampa (3850 MASL – 12631 FASL), the first campsite on our journey.
The first section of the path takes us over a few deep valleys along the side of a mountain. At some parts of the trail, an old aqueduct can still be seen which still supplies water to farmers in the lower valleys. We will travel 7 km (4.35 miles) in 3 hours to Soraypampa where we will have our lunch at the base camp of Salkantay. After lunch and a short rest, we hike up to the unforgettable Humantay Lake (4200 MASL – 13779 ft). This is a 5 km (3.1miles) round-trip which we will walk in a total of 3 hours. This place one of the most beautiful sights in all the Andes with unbelievable blue-green water reflecting the mountain glaciers of Apu Humantay. It seems like something out of a dream or fairy tale! Back at our camp, the background of the valley at sunset creates the most peaceful scene with an energy that can only be felt and not described! Because Soraypampa (our camp) is located in the middle of the glacier valleys, the sky is so immensely clear at night that you can truly appreciate the stars, constellations, and even comets shooting across the pitch blackness, uninterrupted by the hustle, bustle, or lights of the city. Take a moment this night to re-center your spirit and consider all the deep things of life in the profound silence and tranquility of Soraypampa!.

DAY 2 – SORAYPAMPA | SALKANTAY PASS - HUAYRACMACHAY - CHAULLAY
Today's Highlights: Hike along the winding Salkantay trail with the mountain's tallest peak in front of your eyes all morning! Challenge yourself as we make our way up some steep slopes while looking out on the valley far below until we reach the base of Apu Salkantay. Around midday, you will be standing in the middle of the Andes mountain range! In the afternoon, we make our way into the incredible cloud forest and tropical jungle around Chaullay. This is your most challenging day but also your most rewarding!.
After an early wake-up with the first daylight at 05:30 AM and a quick but energizing breakfast, we will start trekking up to the highest point of the trail: the Salkantay Pass (4650 MASL – 15255 FASL). The distance is a 7 km (4.34 miles) of difficult ascent in 3 hours between the rocky valley base and the magnificent Salkantay Mountain (6271 MASL– 20574 FASL). When we reach the top of the pass, we will appreciate the spectacular views of the surrounding valleys and the imposing snowy peaks of Salkantay, Humantay, Tucarhuay and Pumasillo mountains. Salkantay Mountain is the second highest mountain in the Cusco region and one of the Inca gods called "Apu". Continuing from this climax of today's trek, there is a 5 km (3.1 mile) downhill walk to the site for lunch. The walk downwards is on a serpent-shaped, rocky, gravel path which leads to the Huayracmachay lunch campsite. To rest on the way down, there is a perfect valley outlook that is absolutely stunning! In the afternoon after our meal, we will enter the upper part of the Amazon jungle, which is also called "the cloud forest". This is a 10 km (6.2 mile) hike completed in 3 hours on a wide trail in the thick and magical tropical forest. During this part of the trek, you will notice a dramatic change in landscape and the earth's energy as we move from Andes to Amazon! This hike is truly beautiful; the hills are decorated with colorful scenery, wildlife, and native plants. The forests are warm and tropical most of the year with temperate climates. At the end of this outstanding hike, we arrive at Chaullay Village (2900 MASL – 9514 FASL) for a much-deserved reward of rest from our long day of trekking! This is our base camp in the jungle as we continue to make our way to Machu Picchu.

DAY 3 – CHAULLAY | COLLPAPAMPA - LUCMABAMBA
Today's Highlights: We leave our camp early today to enjoy a serene and empty trail and appreciate landscape, scenery, and wildlife, including the roaring river below us in the valley us for much of the day. While trekking through the luscious jungle, you will find countless wild fruits such as banana, avocado, passion fruit, and granadilla. There are also waterfalls and streams where you can refresh your feet and cool off! After having lunch in the small town of La Playa, we will take a short hike to our base camp at Lucmabamba and visit organic plantations of coffee, oranges, and avocados!.
At 06:00 AM, we will start our trek to the small town of La Playa through the Santa Teresa valley. You will be able to soak up this new, lush landscape during our 6 hours of hiking today! During the hike we will see rivers, waterfalls, wild orchids, and plantations of coffee, banana, and avocado. You can taste the famous passion fruit and granadilla fruit along the way! We will see a village called Colpapampa, also called the "brow of the cloud forest," where waterfalls, birds, hot springs, fruit-bearing trees, and flora and fauna can be observed. If we are lucky, we will even be able to see the beautiful bird called "The Cock of the Rocks," the national bird of Peru! After a hearty lunch at La Playa, we will hike for approximately 1 hour to our base camp called Lucmabamba (2400 MASL – 7874 FASL). We will explore the tropical forest for a little while and visit at an organic coffee farm. If you are a coffee lover, this will be especially heavenly for you – you can taste coffee freshly prepared by the local people! If not, you can still enjoy the decadent aroma of freshly roasted and ground coffee wafting through the air! Coffee is the main farming industry of the local people here in the jungle, and they farm many acres of coffee to export to the USA, Asia, and Europe. Coffee was first discovered in Ethiopia, but it wasn't until the Spanish invaded Cusco that it was brought to this region. We will also explore an orange plantation and an avocado plantation this afternoon.

DAY 4 – LUCMABAMBA | LLACTAPATA – HIDROELECTRICA – AGUAS CALIENTES
Today's Highlights: Today something particularly special happens – we get to travel along part of the famous Inca Trail! On this path, we will come to the impressive archeological site of Llactapata right in front of its more well-known big brother, Machu Picchu. You will meet some of the native people who live their day-to-day lives in the area. Along the path you will have the opportunity to harvest several fruits while relishing in one of the best views of the Urubamba valley! Don't forget to turn around and see Apu Salkantay again in the background before you look forward to have your first glance at the glorious Machu Picchu!.
Like previous mornings, the chef of the trek will wake you up early with a hot cup of coca tea served in your bed. You will get ready for today's activities while enjoying your last prepared breakfast by the talented trek chef. We will begin the hike early, and you will have the opportunity to enjoy a small part of the famous and highly-acclaimed Inca trail! After a climb of 2 hours with amazing views of the Santa Teresa valley we will arrive at the Llactapata Inca site right in front of Machu Picchu. This will be the first archaeological site we will see of the mysterious Lost City of the Incas! It is a very special place to enjoy together and spend time learning a bit more about this land's roots and history. We will be able to see not only the ruins of Machu Picchu from this spot, but also Huayna Picchu and Machu Picchu Mountain. We will explore this Inca site with the guide, and he will continue telling the history of the Incas who used and worshipped this land. Of course, you will have plenty of time to take as many photos as you want to capture these memories and share with your friends back home!.
After the Llactapata ruins, we will continue our trek with a 2-hour downhill hike. On this part of the trail, you are always able to view Machu Picchu until we arrive at the Hidroelectrica train station to have lunch. One of the most impressive sites in this area is the 300-meter-tall natural waterfall which generates electricity for the entire region of Cusco! After lunch, we will arrive at Intiwatana, a famous ancient rock used as a sundial in the Incan era. According to history, Intiwatana worked together with the famous sundial stone in the Machu Picchu site. The people used these two stones to measure and read the winter solstice, which was the beginning of the new farming season for the Incas. After passing this interesting Inca site, we will reach train tracks which lead to the town of Aguas Calientes. Here you will have two options: 1) If you are exhausted, you may take the train to Aguas Calientes ($31.00 extra). 2) If you are still eager to hike, you may walk from Hidroelectrica to Aguas Calientes for about 3 hours along the train track. Next to the tracks, there is a nice path we will through the warm paradise of the cloud forest. This is the same trail used by the American professor Hiram Bingham who rediscovered Machu Picchu after centuries of it being lost to the outside world!.
Note: During the rainy season, the hike up the Llactapata Trail is not 100% guaranteed due to safety concerns. When heavy rains are frequent, this trail becomes very dangerous.

DAY 5 - THE MOST IMPORTANT DAY – MACHU PICCHU!
Today's Highlights: Your excitement for our rendezvous at Machu Picchu will rise as we are hiking early in the morning through the forest to reach the site before most other tourists – even the Inca Trail trekkers!! You will have plenty of time to explore this truly magnificent World Wonder while you enjoy the beautiful sunrise from this once-in-a-lifetime viewpoint. Your group will learn about this mystical place in a two-hour guided tour of the ruins. Afterwards, you can opt to climb Huayna Picchu or Machupicchu Mountain (if you have pre-booked tickets) or walk to the Sun Gate (without extra tickets).
Today we arrive at the long-awaited finale of our trek, one of the New 7 Wonders of the World and a UNESCO World Heritage Site – Machu Picchu! We will wake up early after a refreshing night at our hostel to beat the crowds to the top of Machu Picchu and enjoy its serenity in the soft morning light. The Machu Picchu entrance check point is open from 06:00 AM until 17:00 PM. We will hike up to Machupicchu (a bus ride is optional for $12.00) and enter the hidden Royal Citadel of the Incas. Here we will have a 2-hour guided tour through this incredible ancient city to visit temples, terraces, palaces, priest's houses, the sundial, the industrial sector, and the farming fields. Be amazed at the engineering ingenuity of the Incas which was so far ahead of their time and still partially a mystery today! Without having modern tools or even steel and iron to work with, the people who built this city were genius in organizing this community in a sustainable and beautiful way on the side of a mountain, even bringing water in canals through its streets for the people to use. When a Peruvian guide showed this site to Hiram Bingham, it was almost unrecognizable, covered in thick vegetation and in a state of disrepair. It has since been cleaned and restored and is now protected and treasured by the world at large!.
After this tour, you are free to climb up to Huayna Picchu or Machu Picchu Mountain (Be sure to book in advance to get tickets for these!). Each mountain takes approximately 3 hours to hike up and down. Another lower-impact option for which you do not need an extra ticket is to trek to the Sun Gate, the main entrance from the Inca Trail (this takes about 2 or 2.5 hours round-trip). Another option is walking to see the Incan Bridge. You will be able to stay and enjoy this magical city for more than 7 hours before hiking back down to Aguas Calientes for the train ride at 16:22 hrs (subject to availability) to Ollantaytambo. A private bus will pick up our group and drop you off at your hotel in Cusco at about 20:00 hrs. Rest your feet and your body now, but we can assure you your heart will still be soaring for weeks and years to come!.

It includes
Brieing: Informative session one night before the adventure, the place can be in your office or hotel (5:00 pm).
Transportation: Pick up from your hotel in Cusco in the morning and transfer by private transport to Challacancha.
01 night at the Salkantay Sky Camp (double accommodation).
01 night in the Andean Huts (double accommodation).
01 night in the Jungle Domes (double accommodation).
01 night at the hotel in Aguas Calientes (double accommodation).
One mattress or mattress per person (our mattresses or mats are 2 and a half inches, mattress type).
Tents: kitchen tent, dining room with tables and chairs.
Bilingual professional guide (one for groups of 2 to 10 people and two guides for groups of 12 people).
Guided tours throughout the trip.
Cook and kitchen assistant.
Mules to carry the tents, food and kitchen equipment.
Mules to carry up to 7 kilos of cargo per person.
Food: 4 breakfasts, 4 lunches and 4 dinners (vegetarian menus, special diets or if you have any type of allergies are available at no additional cost).
Snack, days 1, 2, 3 and 4.
First aid kit including oxygen bottle for emergencies.
Entry rights and permits to tourist and archaeological sites.
Entry ticket to the citadel of Machu Picchu.
Return train from Aguas Calientes to Ollantaytambo 16:22 hrs.
Transfer from the train station (Ollantaytambo) to your hotel in Cusco.
Water boiled every morning (1 liter per person).
Does not include
Income to Huaynapicchu or Machu Picchu mountain (US $ 25 per person).
Entrance to Salkantay road (S / .10 per person).
Day 1: Breakfast.
Day 5: Lunch and dinner.
Sleeping bag, our sleeping bags are -15 ° C below zero and includes polar sheets. (USD $ 15.00).
Bus tickets Aguas Calientes - Machu Picchu (up or down) (USD $ 12 - one way).
Canes. (USD $ 10.00 - 2 canes).
Hydroelectric Train - Aguas Calientes. (USD $ 31).
Duffel bag.
Recommendations for the Tour:
Rain poncho
Sunscreen
Repellent
Towels
Flips flops
Sun glasses
Others
PRICE PER PERSON 5 DAYS AND 4 NIGHTS SALKANTAY TREK
Price per person
Cost of tour for strain adult
600
To return by Hiram Bingham Train you must add
500
reserve ahead
Payments:
Requirements to Reserve the tour
Departure Date
Names (as shown in passport)
Surnames.(as shown in passport)
Scanned Passport (Required)
Nationality
Passport number
Date of birth
Name of hotel
Phone number to contact
Bring a copy of the migration card (TAM) which will be delivered when entering Perú.
Payment of 50% as warranty. Complete information of a valid credit card.
Important: We do not accept payment of 100% of the cost of the tour
The prices are in promotion to be paid cash, any payment with credit card will have a charge of 8% to the whole price of the choosen tour.
Send your payment by:
1.- Payments with credit card by PayPal
Paypal is one of the most popular internet payment platforms of our time
IMPORTANT: In order to send your payment you need to create an account in Paypal
The steps to send us your payment are easy to follow PAYMENT BY PAYPAL
2.- Banking Transference
It can be done at any bank, make the deposit with the following information:
Bank: Banco de Credito del Peru
Account number in dollars: 285-1730678-1-91
Name: Machupicchu E.I.R.L.
SWIFT: BCPLPEPL
The deposit must be sent under the name of Machupicchu E.I.R.L. (you can print this page).
Afterwards send us a mail with the following information :
Date and hour of the Payment
Operation and transaction numbers.
Displayed name (it should be Machupicchu E.I.R.L. )
Sent total amount
Name of the bank where the transaction was done.
We will send a mail confirming the transaction and we will re-confirm your reserve as well.
If you need more information:
Central Office
+51-84-223010
MOVIL: +51-984654111
MOVIL: +51-984630919
MOVIL: +51-984674477
Web page: www.machupicchutravelagency.com
Travel and Tourism Agency "MachuPicchu Travel"
RUC: 20527957371
Cusco - Peru - Latinoamerica