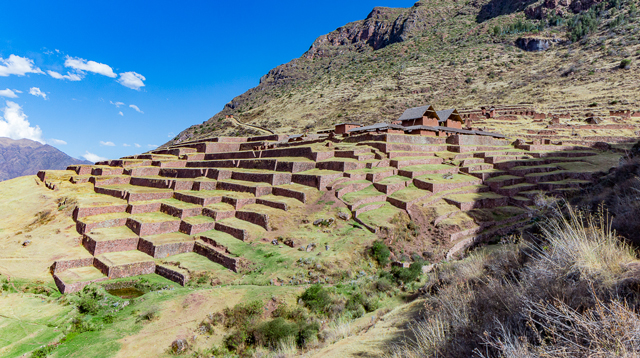 Huchuy Qosqo also known as "The little Cusco" is located in the middle of a mountain, at an altitude of 3600 meters above sea level. From the archaeological complex you can have a privileged view of part of the sacred valley that is at the bottom and the majestic snow of Pitusiray that rises to 4,991 meters above sea level.
For certain it is not yet known precisely why this citadel was built and who would have sent it to be, but by means of chroniclers it can be discerned that it was none other than the eighth Inca of the Tahuantinsuyo empire, Hatun Tópac who would later be called like the Inca Wiracocha who ordered the construction of the city of Huchuy Qosqo probably after having conquered the Yucay and Calca lordships; although it was very little time this complex was inhabited, this because the powerful Chancas sent two emissaries asking for their surrender and unconditional surrender of their domains, including the capital Cuzco, Wiracocha accepted and escaped to Chita with their servants, wives and sons.
Huchuy Qosqo is located at 570 m. On the Urubamba river basin also known as Vilcanota, about 5 km from the city of Calca in the Sacred Valley of the Incas, there are several ways to reach this beautiful archaeological complex, because the route of Huchuy Qosqo is very beautiful; touring its trails will allow you to visit some Andean communities, archaeological centers and enjoy beautiful landscapes (of course depending on which route you choose). Many people take advantage of visiting Huchuy Qosqo on their trip to Machu Picchu.
This archaeological site is located in the upper third of the mountain called Qaqya (thunder), and exhibits one of the most impressive works of topographic modification through the use of terraces, modulating the edges of precipices and vertical ravines over the Vilcanota Valley, culminating On platforms that were used as ceremonial esplanades, around which you can still find standing, several architectural structures made of stone and adobe. Materials used and worked with great criteria, achieving a fine finish.
On the other hand the word Huchuy Qosqo comes from the Quechua word meaning "Little Cusco", however it also has two similar names that would be Qaqyaxaqixawana and Qaqyaqhawana although there is no precision of what the first name means, the second name would mean "From where the rays are observed" and without a doubt this is a good place for the observatory of this photoelectric phenomenon, to the people who managed to stay overnight, and were lucky enough to be able to witness the rays, they were never disappointed, it is a spectacular place of game of lights and sound offered by nature; It is also good to note that others say that the site was probably known in Inca times as "Caquia Jaquijahuana".
The structures of the archaeological site are distributed in such a way that it can be architecturally similar to the city of Cusco; It was for this reason that at the beginning of the 20th century it received the name of Huchuy Qosqo (small Cusco), at the moment it does not require the purchase of any ticket to visit Huchuy Qosqo, so we advise you to visit this beautiful site where you can find structures of three levels, (the first two in the form of regular polyhedrons, and the last floor made of adobe, a long rectangular building made of cobbles on an eminent platform, this building curiously has a large number of doors, which are They are oriented towards the sacred valley, in addition you will also find several smaller enclosures that a Valley can be seen with great amplitude.

Do not stay without knowing the Little Cusco or Huchuy Qosqo, come and discover the wonder, you can dore scattered although in an insufficient state of preservation you will also find small loose enclosures as a kind of guard posts from where the it by hiking for a full day or half a day, depending on the route you want to take, Visit Huchuy Qosqo, we are waiting for you ...
Agency MachuPicchu Travel
We serve 24 hours a day, 365 days a year
Contact Us:
WhatsApp: +51984630919
Phone: + 51-84-264242
Animate to live a new adventure as well as our passengers already did, do not stay with the desire, that does not tell you about it...
Temas Relacionados