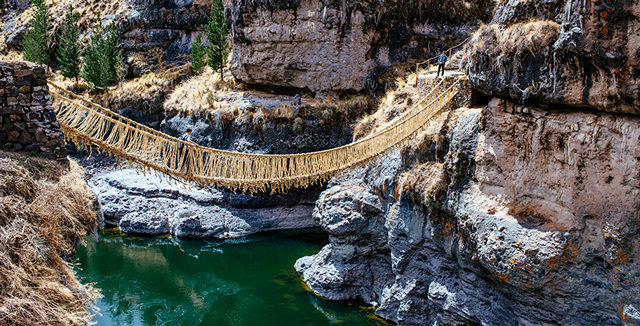 Around 1531 the Spanish forces commanded by Francisco Pizarro disembarked on the coast of Peru, thus initiating the long journey through the immense Inca territory. Advancing among the Andean mountains, the Spaniards could not help but marvel at the complexity of the Empire and the sophistication of the immense road network built and maintained by the Incas.
The Incas built innumerable bridges along their road network in order to overcome many of the deep rivers that cross the Andes. Where the rivers were too wide to be crossed with the help of wooden poles, the Incas devised the construction of hanging bridges, which were made up of vegetables and fibers. The largest suspension bridges that are known represent one of the most important engineering achievements achieved by the Incas.
Construction technology of bridges
The ways of passage
The passageways in the fiber bridges were constructed with a series of cables arranged at ground level, between the two towers located on each side of the river. Like the side cables, these were tensioned and secured to anchors, but then these were joined together by rope trusses. In larger suspension bridges, there were also tie rods, arranged perpendicular to the cables, thus obtaining a wider and safer floor for the passageway. The mats were used for the preservation of the cables in front of the continuous traffic so that they give greater security in the displacements, allowing even the animals that the Incas used to move through these bridges.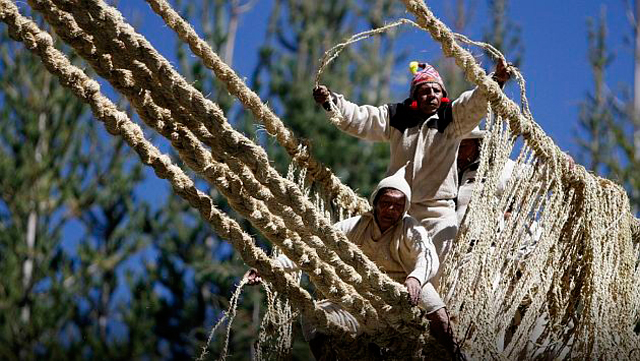 Construction and repair of bridges
In the Inca Empire, bridges were built and maintained through a labor system organized in shifts. The communities around the bridge were assigned the obligation to maintain and replace the cables or even the entire bridge if necessary. Several Spanish chroniclers point out that the largest bridge in the empire had to be completely repaired once every two years. Fun facts
Several villages could work together to complete the repair of a bridge.
The replacement of a bridge was a very important social event, a festive time of communal work full of celebrations and ritual procedures.
Many of the Andean suspension bridges remained in force for centuries despite the new technology brought by the Spanish government.
Among the most important suspension bridges we have: Huatani Bridge (Oroya mining town), Chanchamayo Bridge, Apurímac Bridge, The Pampas River Bridge, The Queswachaka Bridge.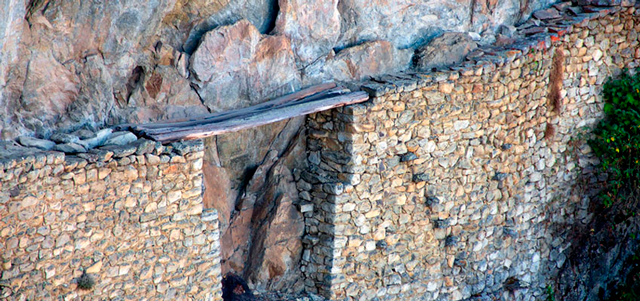 Embark on this wonderful adventure with the best travel agency in Peru Machu Picchu Travel.
We serve 24 hours a day, 365 days a year
Contact Us:
WhatsApp: +51984630919
Phone: + 51-84-223010
Animate to live a new adventure as well as our passengers already did, do not stay with the desire, that does not tell you about it...
Temas Relacionados