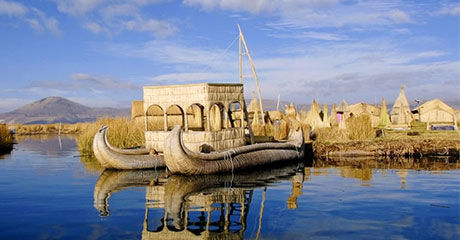 Uros Island Lake Titicaca
First day:
Welcome and transfer from the Puno terminal to the hotel
Night at the hotel in Puno
Second day:
Breakfast at the hotel
Tour to Lake Titicaca, Uros Island, Taquile (06:00 hrs)
Transfer to your next destination, bus terminal or your hotel.
PRECIO POR PERSONA EN ACOMODACION DOBLE - 2022
PRECIO POR PERSONA EN ACOMODACION SIMPLE - 2022
PRECIO POR PERSONA EN ACOMODACION TRIPLE - 2019
The Tour Includes:
01 night of lodging in the selected Hotel.
Continental buffet breakfast (3 and 5 stars) in 2 stars.
Tourist Transport.
Entrance ticket to the Island of Uros and Taquile.
Professional Tourist Guide.
Description of the 2-day Tour on Lake Titicaca
Day 1:
Transfer
Reception at the Terrestrial Terminal, transfer to the selected hotel, free afternoon. Overnight in Puno
Day 2:
Uros - Taquile
In the morning after breakfast I pick you up at the hotel, later by motor boat we will go to the National Reserve of Lake Titikaka, an excellent place to observe birds, on the way we will visit the floating islands of Los Uros inhabited by legendary Indians, likewise we will visit the island of Taquile, the place of the best weavers of ancient Peru. There the only Indian community is presented almost intact. Return to Puno around 7:30 p.m., transfer to your hotel or your next destination.

Send your payment by:
1.- Payments with credit card by PayPal
Paypal is one of the most popular internet payment platforms of our time
IMPORTANT: In order to send your payment you need to create an account in Paypal
The steps to send us your payment are easy to follow PAYMENT BY PAYPAL
2.- Banking Transference
It can be done at any bank, make the deposit with the following information:
Bank: Banco de Credito del Peru
Account number in dollars: 285-1730678-1-91
Name: Machupicchu E.I.R.L.
SWIFT: BCPLPEPL
The deposit must be sent under the name of Machupicchu E.I.R.L. (you can print this page).
Afterwards send us a mail with the following information :
Date and hour of the Payment
Operation and transaction numbers.
Displayed name (it should be Machupicchu E.I.R.L. )
Sent total amount
Name of the bank where the transaction was done.
We will send a mail confirming the transaction and we will re-confirm your reserve as well.
If you need more information:
Central Office
+51-84-223010
MOVIL: +51-984654111
MOVIL: +51-984630919
MOVIL: +51-977777777
Web page: www.machupicchutravelagency.com
Travel and Tourism Agency "MachuPicchu Travel"
RUC: 20527957371
Cusco - Peru - Latinoamerica
You do not need to send money just call us:
Central Office
+51-84-223010
MOVIL: +51-984654111
MOVIL: +51-984630919
MOVIL: +51-984674477
If you need more information:
Web page: www.machupicchutravelagency.com
Travel and Tourism Agency "Machu Picchu Travel"
RUC: 20527957371
Cusco - Peru - Latinoamerica